Commissioned Art - Art with Your Imprint
It was when I was a small child that I noticed that the gifts that my mother loved the best were things that we children had made. These were gifts that not only came from our hearts, but also from our minds. We thought about making "something special," something unique that was meant just for "mommy." It's surely no surprise, then, that as an artist I find many people buy my creations as very special gifts for very special people. Now you can go a step further by commissioning work specifically made for yourself, for a special occasion, or best of all, as a very special gift for those who are special to you.
Two Examples of a Commissioned Pen and Ink on Watercolor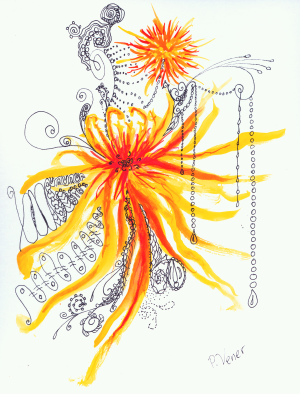 This piece was commissioned as a Mother's Day gift by someone who had seen my work shared on Facebook. The style is unique to me yet fit the mood and subject matter that appealed to her and her mother. She had not specified mums nor colors, but she had confidence in my vision based on the work she'd seen to create something wonderful for her own much loved mother. Of course, if you have something specific in mind, I am happy to work with you to choose suitable colors and motif. I also work in black and white (pen and ink) without underlying waters as well as other motifs such as hamsa and whimsical imaginings. And, if you wish, larger works in paints on canvas can be commissioned. Browse this website to see more examples of my work, Contact me and let's get started! There is no fee for an initial consultation.
Three Examples of Commissioned Works of Art Jewelry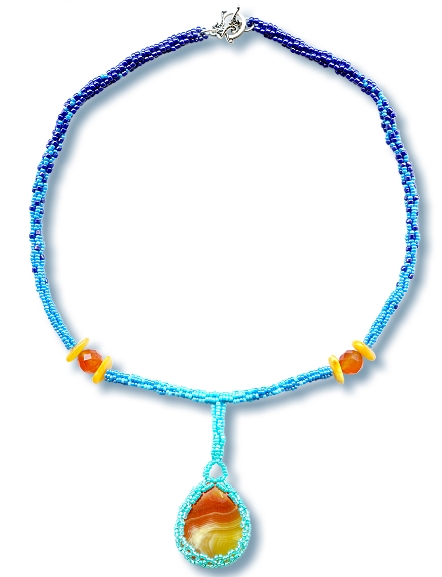 Created as a wedding gift for a bride who loves the tiny island of Barnegat Light off New Jersey, this necklace incorporates an unusual Queensland agate surrounded by a beaded bezel, held suspended by tubular brick stitch rope. The accent beads are facted carnelian and honey amber chips. This necklace, like a painting of the same island, represents sunrise on the beach. The semi prescious stones are the colors of the rising sun and a pair of sundogs up in the clouds on either side of the sun. The varying shades of the very tiny blue seed beads are the sky lightening as day begins.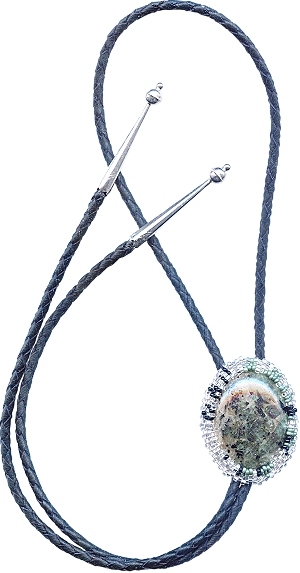 My father collected rocks and minerals and for the most part whenever he had to wear a tie, his choice was a bola tie. It's a fabulous means for a man to show off his style while still giving a nod to convention. This bola was made for a woman whose father is fond of bolas and the stone was one of mine, though if she'd already had a stone I would have designed the piece around it. The cord is braided leather and the long finials are decorated sterling silver. I used bead embroidery and weaving to surround the stone using seed beads in colors that matched the crystal, green and black flecked agate.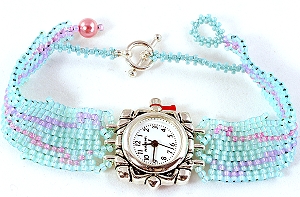 My last example is a bead woven watchband made as a birthday gift for a young lady attaining her 13th year. The most unusual feature of this piece is that it has two closings. The first is a bead and loop closure utilizing a Swarovski glass pearl. The second closing is a narrow strip with a sterling silver toggle clasp. Why two closings? Because no matter how careful an active 13 year old girl is, there are bound to be times when she is going to need the extra security of the second, toggle clasp. My inspiration for the second clasp was the ever present safety chain found on all the best bracelets of the first half of the 20th century.
Show Off Your Style by Commissioning Art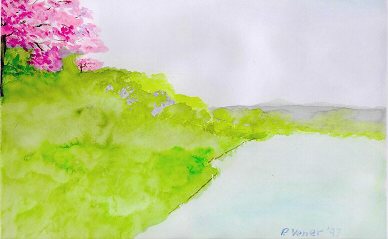 Contact me now to start the discussion for your own commissioned art work. Initial consultations are free even if I determine that another artist's work fits your needs. These are the dialogues that help me learn your specific needs, your budget, and your preferences. You pay nothing until you make the committment for the work. It's not too soon to start thinking about special jewelry for special occasions or a painting for your newly painted living room.
Impromptu Rave (Testimonial)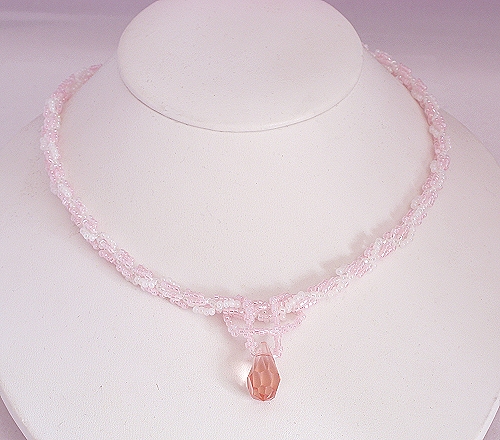 Wow!!!! The necklace is absolutely beautiful! It is exactly, exactly what I had in mind! It will be worn throughout Summer as I have lots of white outfits. (I am wearing it as I type.) Thanks again for creating such a beautiful necklace and I look forward to fall when I can place another order....I still have by eye on the necklace I love so much.
~~Lisa Bretscher, Maryland
Gallery of Commissioned Works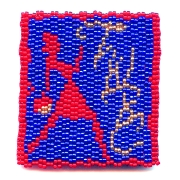 Brooch - Beadweaving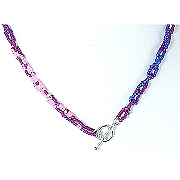 Vener Chain Stitch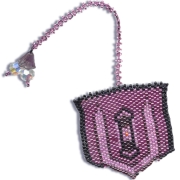 Bookmark in Beads