Patricia C Vener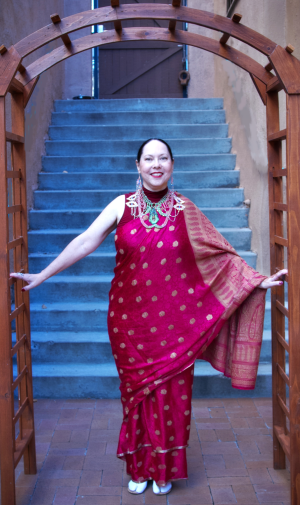 Artist Statement
I spent over a decade as my mother's primary family caregiver. This is truly a daunting undertaking, but not only did I perservere, but I also grew. It was impossible to continue a productive studio practice but everything that touched me as a person and daughter, also touched me as an artist. Including my experience with my grief. Now that I am back in the studio, and reaching out to share my art, I find it, too, has evolved and is becoming more emotional, more impactful, and more innovative.
My latest works combine techniques of canvas painting and bead weaving. Using this technique I ask my paintings to tell a story I have assigned them. I then ask what stories they inspire in the observer. Interpretation is an "observer created reality," a collaboration between artist and observer. This series combines innate beauty of the art itself while reflecting the despair of our imminent dystopian future. This series is meant to expand into other series as my stories grow and develop.
My goal is to reach the point where both paint and bead weaving share equal weight in each work. Or even have the bead weaving carry the greater load without losing its identity as "a painting." I want to delve into the question of whether the story needs to be obvious or not. Concurrently, I want to develop my bead weaving to expand "jewelry" to fine art. I have made some progress with that, which is why I feel excited to combine both of these media
Biographical Notes
Patricia C Vener is an artist whose works serve sometimes as calls to social action and sometimes as visions of respite for those whose lives are filled with stress, trouble, and uncertainty. Her media include combining intricate bead weaving with acrylics and oils on canvas and smaller works of pen and inks over watercolors. The former results in a new vocabulary of color and texture, while the latter experiments form new ways of seeing that are uniquely Patricia's own. Drawn to Impressionist, Expressionist, and Abstract forms, she distills her style from her assimilation of these earlier art movements.
Patricia moved from Maryland to Connecticut to care for her mother with Alzheimer's Disease. Her art career was put on hold for over 10 ten years. As she assimilates her grief, she returned to the studio and Her efforts paid off with a group gallery exhibition in September 2019 and solo exhibit in January of 2020.
Patricia illustrated one of the earliest CD eBooks ("Papa Cardinal Finds Breakfast" by Sandra Wellborn) and has had her art published in an Astronomy textbook accompanying an essay she wrote for that edition. Another of her drawings was used in the instructor's answer manual for an introductory physics textbook. Several of her works (paintings as well as art jewelry) are in private collections.
Patricia gained some basic art education from studies at the Silvermine Guild of Artists School of the Arts (on scholarship decades ago). She also took a class or two from the Art Students League and the School of Visual Arts both in New York City. She is otherwise self taught. (Patricia loves books!)
Patricia was born in Rochester New York but after a circuitous route of many abodes, now resides in Hamden Connecticut, her home and studio just a bit south of the famous Sleeping Giant. .