Patricia C Vener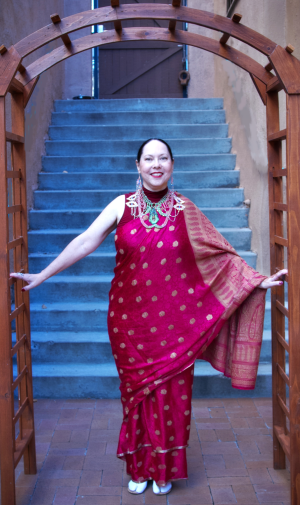 Artist Statement
What characterizes me? I never stop moving. Everything in the Universe moves with respect to something else. The Universe itself, after all, is expanding. On a human level, even in the stillness of mediation there is motion - internal as well as with respect to external frames of reference.
What characterizes my work? Movement. Thread moves through every bead, locking each of them into positions that carry the viewers gaze over the piece according to the flow of colors, textures, and patterns.
As I mature I find more trust in my instincts to explore the media I choose to bring beauty to a world which needs as much as can be had. I am moving from the traditional artist media of paints to the less well explored media of bead weaving. My work is motion and movement both of the work and the viewer. It is wearable art, as jewelry, but I also intend it to be as intellectually viewable as any painting or sculpture.
Biographical Notes
Patricia C Vener manipulates light and shadow, color and texture to invoke in her audience a visceral emotional response to art works which can be worn and therefore viewed in a changeable context. More than just intellectually beautiful, Patricia's bead woven jewelry and hangings translate the panorama of nature and concrete reality to emotive abstractions approachable from a variety of perspectives.
Patricia doesn't hide from potential collectors, but, like any treasure worth finding, her work is sought out by discerning individuals. Her most recent public showing is at The Bird Nest Gallery and Salon in Guiford CT.
Patricia does also leak images to the Internet on her website, eNewsletter, blog, facebook Page, and on her Pinterest boards. She's also happy to display her work live but you do need to contact her first.
Innate talent is great and Patricia has plenty of it, but she has occasionally sought to gain insights from other artists' perspectives. She has pursued this by having taken classes at Silvermine Guild of Artists School of Art, Art Students League, and the School of Visual Arts as well as constant self-directed independent study. Patricia believes that lifelong learning is an ongoing adventure that enriches both her life and her work.
Patricia is always amazed by people who tell her that they've lived in the same town all their lives because she, herself, has not. Her roots are shallow but extensive, having put down in many places before her present residence in Hamden, CT, not far from the Sleeping Giant geologic formation.