Lace Me Up by Patricia C Vener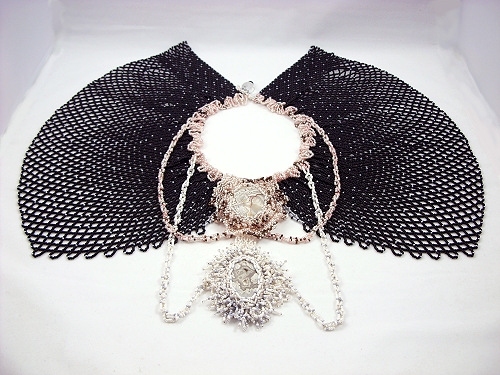 The challenge was laid: choose one from a collection of couture gowns and create a work of jewelry art inspired by that gown. I gave myself a second challenge - to choose a piece that used colors outside my preferences. Greys, neutrals, thankfully black was included. A limited palette, it might seem at first, but in reality these closely related hues encourage a focus on subtlety.
My next decision: that piece would reflect not only the color scheme of the gown, but also the lacy appearance of the fabrics used in its creation. By chance I found another expression of both color and fabric in two cabochons of Mexican lace agate polished by Elmore Easter, an elderly rockhound and gentleman, an expert artisan here in Connecticut. These, with their rock hard lacy appearance, would be the focal point of my new work. These paler centerpiece colors are given a sense of mass by the double layers of ruffled bezeling and fringe as well as being continued as the ruffled collar and delicate chain work of my own invention.
I chose to work the main body in bead netting using black seed beads with an occasional grey bead for tonal interest. This part of the work was possibly the most time consuming and then had to be partially reworked after a disastrous accident. It's 3:00 AM when a horrible crashing wakes me. Has a car crashed into my house? My heart is racing. I throw off my blankets and wander room to room when suddenly I see my living room floor covered in shards of glass. One of the mirrors glued to the wall over the fireplace has collapsed and shattered everywhere, taking with it old family photos, vintage glassware, an old glass lamp, a painting I'd done at 18, and my necklace. I went back to bed thankful that my house was intact. It was enough to encourage me to recreate the massive capelet of bead netted lace.
The whole piece is weighty but engineered to have spread the weight over the shoulders and down the back so as to be comfortable when worn. It's size makes it more of a garment, a capelet, than a piece of jewelry.
Price: $2,100.00 USD
$2,100.00