La Doņa Š2010, Patricia C Vener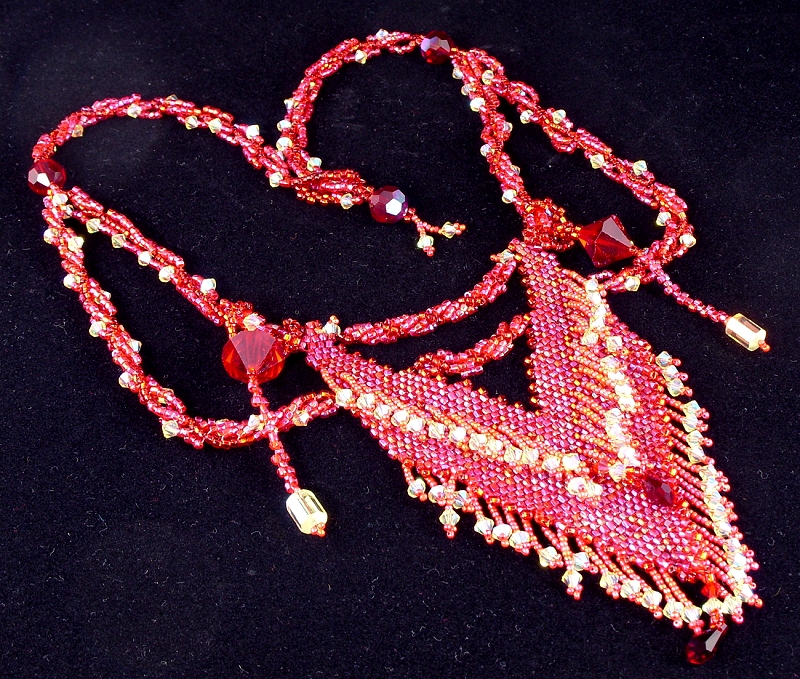 "La Doņa" is a mature, beautiful woman who has experienced the sorrows and joys of a passionate life. She has blossomed in her maturity with a strength and patience she had not realized she possessed as a younger woman. She laughs heartily. She sings loudly. She cries with unabashed empathy. She dances with abandon. She will leave the world a better place for her having sojourned here. This is me. Is this you, too?
I have an eight yard cotton sari in red and yellow that I'd gotten from the late Chantel Boulenger, author of Saris: An Illustrated Guide to the Indian Art of Draping." I needed jewelry that was as magnificent as the sari. Using materials on hand, I made a pair of elaborate earrings using vintage faceted seed beads and newer Swarovski cyrstals. At the time I had just taught myself the Russian variation of Peyote stitch and this was a chance to use it in a new way.
Years later, these earrings inspired the "La Doņa" when I decided I wanted to create a work in vibrant red. Artists often revisit earlier works. Sometimes we simply rework a piece but other times the existing piece serves as a starting point for a completely new work steeped in the artist's maturing vision and techniques. This time, the Russian Peyote variation is a centerpiece with even more elaborate fringing and the addition of other techniques to sculpt a sweeping, curvaceous structure. And because I like things that are convertible, I included two little dangles that can hang either from the necklace itself or be placed on earwires and dangle from your ears.
Length is 20.5 inches / 52 centimeters. Focal piece drop length: 5 inches / 12.7 centimeters
Price: $1500.00 USD
$1500.00