Cold Fusion © Patricia C Vener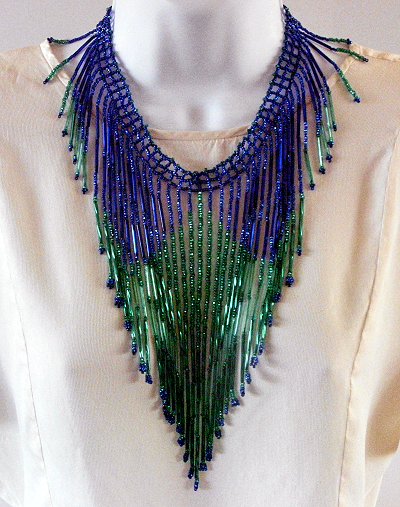 Blue and green. I read once that for a time this color combination was avoided. I can't imagine it! It's such a natural combination. We can start with trees against a clear sky. On a clear, clean Summer day green against blue is a hot combination. At least it is in a mild (and healthy) climate. Wait. Even some deserts have cacti. And they are green too.
Another example, and the one that most inspires this necklace, are the minerals azurite and malachite. These two minerals often occur together. Malachite is unique for its green banding, light then dark in graceful alternating swirls of varying widths. Azurite is a blue of such depth you could fall into the color and forget to emerge.
The green beads are not banded like the mineral but the variety of finishes, silverlined versus translucent for example, play the same role of contrast. The blue bead color is officially "cobalt." Probably in honor of early 20th century cobalt glass. To me, however, the color is azure. $250.00