Your daughter is not obsessing; it really is time to start thinking about the Prom, especially if she wants to present her own sense of style and not just getting stuck with others' leftovers. At the top of the list of things to think about (besides who is going with whom) are the dress and the jewelry. Even off the rack, a Prom gown is likely to be the greatest expense of the whole affair. If she start looking now, your daughter is more likely to find the color and style of her dreams. It's also not too soon to start thinking about her jewelry. Simple or elaborate, contrast the dress or complement it, now is the time to start weighing those options.
The most flexibility in this comes when you have the jewelry made on commission, but it is possible to find already made works of art that will make the statement she wants to project to the world (or at least everyone else at the Prom).

Three tiered overlapping loop bead woven necklace
The necklace above, at my ArtFire studio, in colrs of silver-white, gold and iridescent red would be perfect with an off the shoulder gown with not too much of its own decoration on top.

Elegant wire wrapped dangle earrings
On the other hand, an already ornately decorated gown needs nothing more than a pair of elegant earrings to complete The Look. These one of a kind earrings are in my Etsy shop.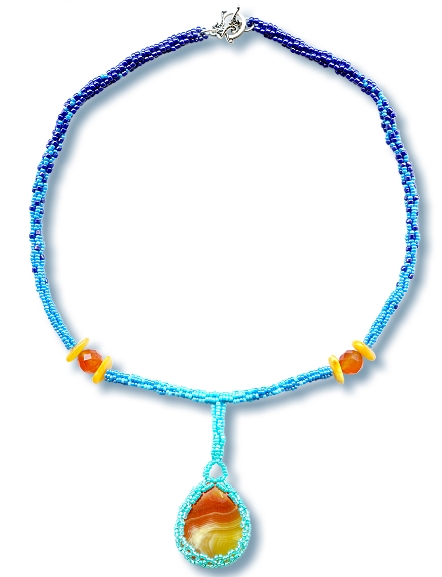 Commissioned Works
Or visit my web site to have a set or a single piece made just for you and the gown being worn. The necklace above, Barnegat Light, was commissioned as a wedding gift for the new bride. On that page are some other examples and, if you have a vintage or antique you'd like transformed that is also one of my specialties. You can read more about this on my Transform page.