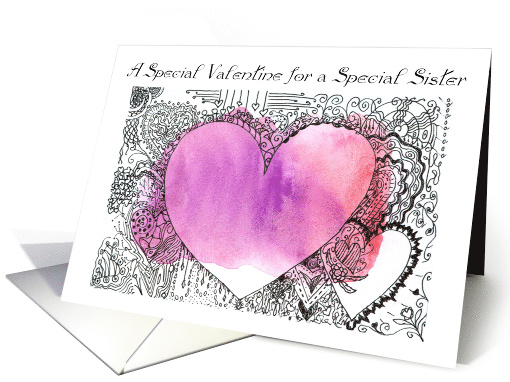 The original work of art (without the lettering) is called "Positive Space." But this card that I designed is a "Special Valentine for a Special Sister." Some of you might ask if all sisters aren't special? I would hope so, but of course they aren't. When you do have a sister who is above the average of sisterly-ness, it's worth taking note of!
This is one of my favorites out of all the more than 100 vignettes in this series of hand drawn over watercolour artwork. I love how the immense intricacy balances with the unadorned space that emerges as a traditional loving heart shape. It takes time to do all that drawing and if I had made a mistake – it would have been all over. No mistakes, the work came out exactly as I intended. This piece is special! (Hopefully like your sister, certainly like mine.)
This card and others are in my shop at Greeting Card Universe. Please take a look (GCU offers free shipping for 10 or more cards or free pickup at Target Photo).