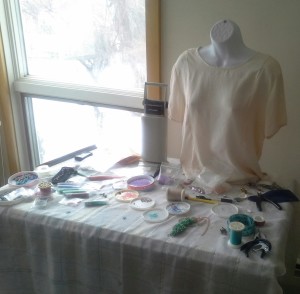 Do small spaces make you feel confined or do you find them to be cozy?
As a ballerina I need space to move! I need spaciousness to be comfortable. I need to be able to sprawl. Small rooms make me antsy.
As a fine artist I need space to create large pieces and because my art form is bead weaving, I need space not only to spread out but to move my arms. I use very long lengths of thread on my needles and pulling them through the stitches is a lot like dancing.
Nonetheless, I started out with the idea that my studio could be anywhere I felt like working. Not a good idea. I had to clean up even if the work wasn't finished. (Family likes to eat at the dining room table.)
There is a room off the kitchen that I had been using as a mini living room where I could comfortably ensconce my mother so she could watch tv or nap and still be in sight. (She has Alzheimers Disease and I am caring for her at home.) But it's not a warm room in winter and she had become very sensitive to lower temperatures.
Clearly the universe was telling me that it was time for a dedicated studio. One that is roomy and bright. And this is the brightest room in the house! Even in Winter, sunlight sweeps in. Perfect!
Having a dedicated studio has allowed me to work in sunlight, to have supplies and equipment close at hand. I love being in my studio, even with the almost last vestige of livingroom-ness – my brother-in-law's reclining chair – taking up a large bit of space. Which actually makes reading and researching in there very inviting.
Having the right place to work makes everything flow. There are shelves for books and display. There's a bay window for my plants (and more display). There's an air conditioner behind my materials storage cases (in the Summer the storage cases will go across the room in front of the baseboard heater). The kitchen is right over there! I have it made!
Let's get to work!