The last few months have seen the creation of several new works including Goddess of the Autumn.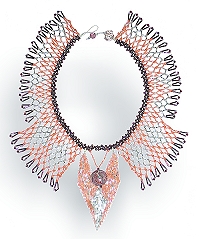 This necklace is too big for my scanner! So a friend of mine took a snapshot of it for me. I fiddled with the background and added a dramatic shadow but it still needs to be seen to be believed! It drapes smoothly and effortlessly. The dangling bead is an art bead of polymee clay but I don't remember who the artist is!
These colors of pale orange and pale antique turquoise are unusual for me, but they work so well. To see more of my recent works, visit my website, handmade beaded jewelry at the Lair of the Silver Dragon.