On 17 June my mother turned 90. She has advanced Alzheimers Disease but has managed to remain loving and has kept her sense of humor. And, she still enjoys a good party. So, back in March, I decided to give her a birthday party.
When I was small, my mama and I would have tea parties. I was Mrs. Smith and she was Mrs. Jones. (When my sister came along, she became Mrs. Johnson.) My mother collected china tea cups and saucers and we used these. We had real tea and cookies or crackers with jam. In 2006 she could no longer live alone and I came to live with her. I found a tea shop nearby that served a true English tea and I reinstituted going out for tea. She loved these!
Obviously, a tea party would be the perfect birthday celebration! There was a lot of planning and testing. Lots of things to do to get it all together, but I enjoyed it. I especially enjoyed putting together our outfits, and creating a new parure of earrings and a necklace to finish her look.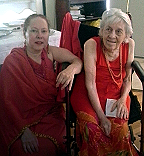 The start of June was not encouraging. Rainy and unseasonably cold, my heat went on in the early mornings. Even as late as the 15th it seemed more like April than June. Oy veh. The 20th of June, I woke to a wonderfully sunny but not very hot day. Everything was set up and ready before the guests started to arrive. I scurried around playing hostess, keeping the trays filled and the hot tea, hot. The sun stayed out for the first two hours before drizzle set in followed by rain. But indoors or out, my mother had a blast! She loved the attention, the food, the company. I'm pretty sure she loved the music, too.
She is living in the moment and I have few illusions that she remembers any of it, now. But she had a few hours of joy and celebration, and that is enough to wish for.