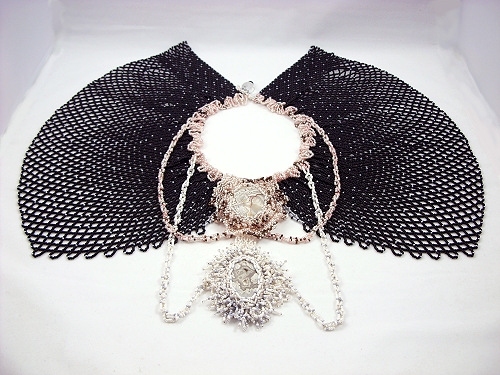 "Lace Me Up" started out as a response to a challenge. It became the response to more than one chalenge including the crash of a large wall mirror in the middle of the night.
The first challenge was an external one: choose one of the couture gowns from a collection and create a work of jewelry art based on that. I chose a piece that used colors outside my preferences. Greys, neutrals, and black. A limited palette, perhaps, but these closely related hues encourage a focus on subtlety.
My next decision was to reflect the lacy appearance of the fabrics used in the gown's construction. By chance I owned two cabochons of Mexican lace agate. These, with their rock hard lacy appearance, would be the focal point of my new work.
I chose to work the main body in bead netting using black seed beads with an occasional grey bead for tonal interest. This part of the work was the most time consuming and arduous.
And then; disaster! It's 3:00 AM when a horrible crashing wakes me. Has a car crashed into my house? My heart is racing. I throw off my blankets and scramble room to room when suddenly I see my living room floor covered in shards of glass. One of the mirrors glued to the wall over the fireplace has collapsed and shattered everywhere, taking with it old family photos, vintage glassware, an old glass lamp, a painting I'd done at 18, and my necklace. I went back to bed thankful that my house was intact. It was enough to encourage me to recreate the massive capelet of bead netted lace.
I invite you to read the full story is on my website,Lace Me Up on its own page.