Have you heard about the latest advancement in fashion statements? You have if you've seen my Bubbe Pins™. These are a recent development inspired by findings offered by Rings and Things. The findings are sturdy metal bobby pins with 10 millimeter pads soldered on at the round end. They envisioned people gluing and lightly soldering things to these pads but I, of course, had a different idea. Why not bead around the pads and then either build from there or add on separately beaded pieces? I do both and I start by weaving a backwards peyote bezel. If one assumes a bezel that covers the entire back of a 10 millimeter round stone. For those who want to know more about this process, I have a tutorial that I give as a gift to people who subscribe to my monthly eNewsletter.
The Bubbe Pin™ Story
It has become almost a universal problem: how to keep a yarmulke (kippah) or small headscarf from sliding off the head. For many years the best solution has come from grandmothers, ("bubbe" is Yiddish for grandmother) handing out cheap metal or plastic covered bobby pins. No style, just plain functionality.

My Bubbe Pins™ add that missing element and you don't have to be Jewish to wear them! They range from one of a kind ornate works that are reminiscent of Indian jhumar to very simple, yet elegant, limited edition designs suitable for both men and women.
So now for the pictures! Here are a few of the possibilities. Look for more colors and designs soon – or contact me and tell me what you want. These are perfect gifts for Bar and Bat Mitzvahs and are the perfect addition for High Holy Day dress.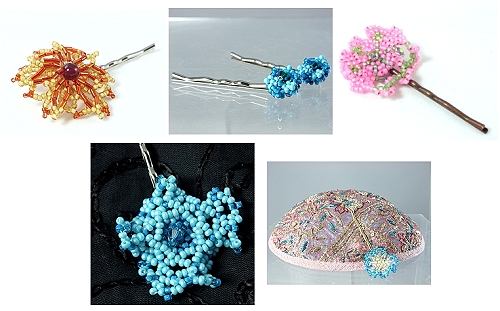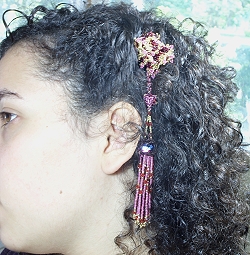 My niece modeling my Bubbe Pin™