Just in time is not really the best way to work, but sometimes it is unavoidable. Such as this month when I finished a new work of bead weaving art just in time to enter it into the Etsy Bead Weavers monthly challenge. The theme is the trilogy of novels, "Lord of the Rings" with the proviso that the resulting piece be inspired by a particular character. LOTR has a wealth of wonderful characters and my favorite, when I first read the series in the sixth grade, was Samwise. (He is heroic even if he doesn't really want to be and that did and still does appeal to me.)
I did not choose Samwise, however, but rather Galadriel who both craves power but rejects (or resists) the temptation of the One Ring. Such power of self control is, in its way, as exceptional as Samwise's decisions to do the brave thing even when he is scared out of his mind. Galadriel. along with Celeborn, rules the elves of the forest Lothlorien. She is powerful and connected to nature. I envision her with jewelry that reflects her natural associations and as it is now Spring (in the Northern Hemisphere, anyway) she wears a necklace that celebrates this transitory season of growth and flowering.
The necklace is called "Celedon" and is mostly the pale green of young shoots, accented by dark green leaves and three pink buds. The central cabochon is variscite, polished by Connecticut lapidarist Elmore Easter. The three buds are faceted rhodonite briolettes.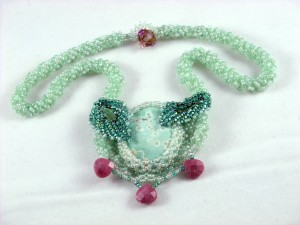 Voting goes from 9 May 2011 through 15 May 2011 at the Etsy Beadweavers Blog.